Anniversary & Wedding Bands for Sale in Sarasota
Make the perfect match. A. Tifaney & Son sells ladies and men's engagement & anniversary bands.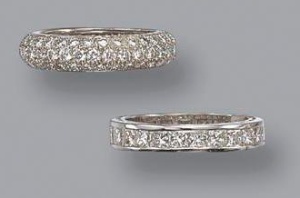 Many of our customers visit our jewelry store in downtown Sarasota to buy:
Men's wedding rings
Diamond wedding rings
Filigree wedding rings
Antique wedding rings
Two-tone gold wedding rings
More
A great way to free up some cash to buy your wedding band is to sell your gold. We buy estates unused jewelry and are looking for people who want to sell their jewelry for as much money as possible.
You've found the perfect fit for your life. Let A. Tifaney & Son find the perfect fit for your hand. We can help stay on budget, without skimping on quality. You'll also rest easy knowing that our GIA certified gemologist has over 30 years of experience helping couples get the perfect wedding bands.
Whether you're the bride to be or the groom in waiting, you'll be impressed by the selection of beautiful wedding rings offered by A. Tifaney & Son.