Buy Engagement Rings from Sarasota's Finest Jeweler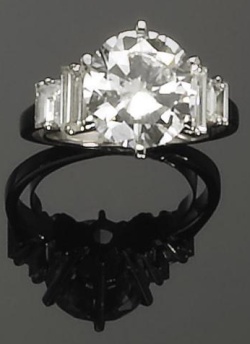 If you've been shopping for an engagement ring and haven't yet found "the one" it's time to visit A. Tifaney & Son.
As Sarasota's finest jeweler, we've given soon to be newlyweds courteous, patient service. With engagement rings that fit any budget, you can feel confident that you've chosen the right jeweler who can provide you with the perfect ring.
With that in mind, here are 5 Things to Know Before You Buy an Engagement Ring:
Figure Out A Budget – This is, by far, the most difficult part of the process. Many things determine the cost of an engagement ring. The type of metal used for the setting, the style of setting, the color of the diamond, the clarity of the diamond, and the size of the diamond. If you walk into a local Sarasota jewelry store with an exact figure in mind, you will be able to breathe a little easier during the selection process. A great way to reduce your budget burden is to unload some of jewelry or items you don't use. We buy gold jewelry and, as one of prominent estate buyers in Sarasota, you can relieve some of the upfront cost of buying an engagement ring. We will even buy rare collectibles and memorabilia.
Take notes– This is the homework part of the process. One thing some of our customers do is rent romantic movies like Titanic where diamonds play a key role. While it might sound cheesy, it has proven to be a nonchalant way to ask questions. If you're plan to make the event a real surprise, be sure to take notes over the course of a few weeks. Walk by some jewelry stores and listen intently. Here are some things to pay attention to:

Platinum, Yellow Gold, White Gold
What kind of jewelry do they wear now? Modern, antique, traditional, filigree?
What kind of cut diamond does she prefer?

Does diamond size really matter? Avoid jewelers who say "Bigger is better." In fact, when it comes to buying engagement rings, nothing could be further from the truth. As a GIA certified gemologist with 30 years of experience, we can tell you first hand that clarity and color far outweigh the size of the diamond. If you were to list the value of a diamond in priority order, the most reputable gemologists would rank the following:

Clarity
Cut
Color
Carat

Stretch your dollar to the limit – Like a good NASCAR driver, or skilled marksman, buying the right engagement ring often comes down to the little things. You can save more money and get a better quality diamond engagement ring by buying a diamond just under a prime number. For instance, you can save literally hundreds of dollars buying a beautiful high clarity and good color diamond that's 1.23 carats as opposed to spending more on a 1.25 carat diamond engagement ring. Choosing white gold over platinum is also a great way to save.
Bring someone you know can keep a secret – Whether it's your future mother in law, or a good friend who's already gone through the engagement buying process, we've always said that a good friend who knows a thing or two about diamonds is a great way to make the process less stressful.
Our GIA certified gemologist is on-hand, ready and willing to answer your questions. We will also provide all the necessary GIA certificates to add even more peace of mind.
Making the decision to get married should be a time of celebration, not stress, or frustration. Call us today 1-941-366-1014 and let A. Tifaney & Son give you the engagement ring worthy of the moment.